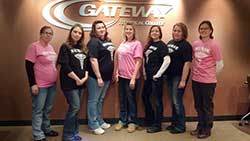 If you are enrolled in the nursing program or working towards enrollment; the Burlington Student Nurses Association (SNA) is a great way to get to know fellow students and nursing faculty.  The Student Nurses Association is a national organization for nursing students focusing on enhancing understanding of the nursing profession.  The Burlington SNA combines personal and professional development along with providing service to the community.
Many of the club members are also active in the Wisconsin Student Nurses Association (WSNA) as well as, the National Student Nurses Association.  WSNA Conferences are great networking and professional development opportunities for club members.  The Student Nurses Association is also very active on campus hosting an annual Symposium, fall Blood Drive, assisting with the Pinning Ceremony, partnering with local charitable organizations as well as, many other activities and events.  Membership is a great opportunity for professional development, hands on experience, and building relationships with fellow students.
Join in on the fun.....
Club Meetings:
Burlington SNA holds monthly membership meetings. Join the Burlington SNA on Blackboard or contact club leadership for more information.