Collegiate DECA is a student driven organization that values competence, innovation, integrity, and teamwork. We prepare students for careers by integrating skills learned in the classroom into real world experiences. Collegiate DECA programs assist in developing academically prepared, community oriented, professionally responsible, experienced leaders. Our students major in a variety of academic programs with a strong focus on business-related fields. Collegiate DECA conferences and other activities give students unique access to internships, scholarships, competition, and professional networking.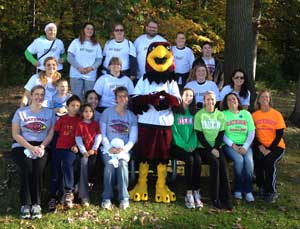 What's Going on at Gateway Collegiate DECA – Racine Campus?
Spring Semester Meetings:
TBA
Spring Semester Events:
TBA
Officer Team:
TBA
Join Gateway's Collegiate DECA Blackboard Community
Do you want to know more about Gateway Collegiate DECA? You can add the Collegiate DECA Community to your Blackboard, here's how:
Log into your Gateway Blackboard
Click on the Community Tab
In the "Organization Search" Box, type in "DECA"
You will then be able to click on Collegiate DECA and self-enroll
Go to your main Blackboard page, scroll down, on your right you will see Collegiate DECA under the heading "My Organizations".
On the Collegiate DECA Blackboard you will find information about meetings on Kenosha, Racine, and Elkhorn Campuses as well as other important information. Keep in touch with Gateway Collegiate DECA!
Best of all, it is FREE to join Gateway's Collegiate DECA!