Helping Your Business Take Off
Is it time to get your idea out of that second bedroom? Drinking one too many lattes a day?  Not ready to sign a lease for workspace?  You've got options.
There is a new option in the City of Racine - Launch Box Business and Resource Center Co-Working Space!
Launch Box Co-Working space is a neat, modern, open space located in Downtown Racine, 1001 S. Main Street, Suite R109, right on Racine's Gateway campus. With a great view of Lake Michigan, trendy furniture and unique whiteboards, and video conferencing equipment, the space gives off a youthful, hip vibe that makes it the ideal co-working space for start-up entrepreneurs, freelancers, students and professionals. We are social creatures and often crave collaboration, mentoring, idea sharing and creative brainstorming. That's what we offer!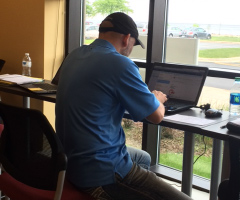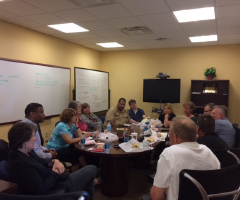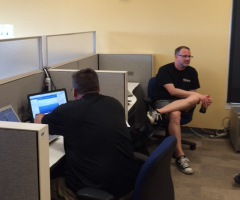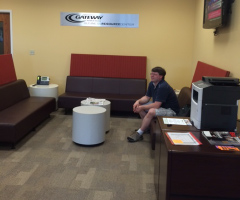 Launch Box Co-Working offers:
Great location in Downtown Racine – 1001 S. Main Street, Suite R109 - Lakeside Lower Level of Racine Building
Two conference rooms with whiteboards and video conferencing equipment 
Onsite printer 
Access to numerous resource partners to help start, develop and grow businesses 
Free Wi-Fi access 
Classroom training, workshops, and networking events 
Access to peers, mentors and advisors 
Advantage to Being on Campus: 
Access to onsite training and presentation space 
Access to cafeteria 
Onsite coffee shop 
Access to campus culinary department 
Access to instructors and students 
Onsite bookstore with office supplies and other resources 
Onsite library 
Access to BIZ Squad- Gateway Technical College's BIZ Squad is a multidisciplinary student project team that provides no-cost customized assistance to area businesses in Southeastern Wisconsin. 
Possible areas of assistance include: 
Graphic communications – Creation of marketing materials, websites and logo design 
Business management – Development of business expansion or consolidation plans 
Marketing – Creation or revision of company marketing plan including social media content 
Accounting – Recommend changes and provide accounting review resources 
Supervisory management – Design HR functions and assist with legal business aspects 
Information technology – Review disaster recovery and recommend network changes 
Administrative professional – Development of new forms and front office procedures
How do you join?
There is no cost to use Launch Box Business Resource Center.
Not sure if this is right for you?? Have Questions??  Give us a call, we'd be happy to show you around and talk about how we can help you start and grow your business.
Hours: 
Monday-Friday: 6:30 a.m. - 10 p.m. 
Saturday: 6:30 a.m. - 2 p.m. 
Sunday: Closed 
*Launch Box Business Resource Center also will be closed on standard holidays. 
Winter Holiday- TBA 
Spring Holiday- TBA
Launch Box Co-Working forms:
Launch Box Co-Working Reservations (Members/Partners Only ~ Contact the Launch Box Team for password)