Gateway is proud to participate in two Higher Education Department (HED) grants with our partner school, Ecole Superieire de Technologie d'Oujda, Morocco.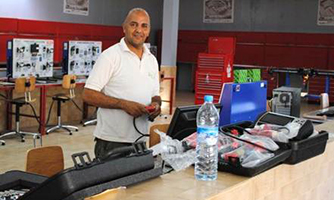 Automotive diagnostics
Gateway lead a successful implemented an unprecedented automotive facility at Universite' Mohammed I Oujda/Ecole Superieure de Technologie (EST) in Morocco with partners around the nation. Gateway is now involved in program implementation and planning the next phase to include expansion in the energy sector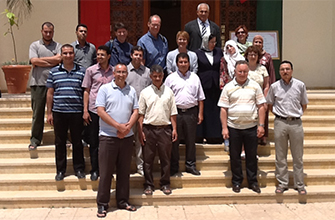 Entrepreneurialism, product development & prototyping
After an initial 6-month planning grant to support the creation of a long-term partnership to strengthen the capacity of Broader Middle East and North Africa (BMENA) partner institutions through the promotion of entrepreneurship, Gateway and its partners have been awarded $461, 576 for a 3-year project.  The project focuses on achieving three primary objectives: entrepreneurial and enterprise development; (2) to strengthen the capacity of students to launch and operate their own business (3) to develop and deploy technological.
Project partners include Rock Valley Community College (RVC) EIGERLab and the National Business Incubation Association (NBIA). These organizations play pivotal roles by bringing technological innovation and prototype product development, business resources and client services training, and entrepreneurial curriculum development to the project.
---
Success Story            
Getting a new product idea from the conceptualization phase to a physical model can be a slow and expensive process for entrepreneurs leading start-up companies as well as established businesses. This process can stall business growth but 3-D printing offers a fast-track method to a tangible product. The higher education collaboration project funded by the U.S. Agency for International Development between Gateway Technical College and Ecole Superieure de Technologie d'Oujda (ESTO) in Morocco calls this rapid prototyping. The project has been training ESTO faculty to use the special printer to support entrepreneurship and business development. Click here to read complete article.
---
Gateway's BIZ Squad is a multi-disciplinary course where members work collectively on problem-centric learning with local businesses. Staff from the Workforce and Economic Development Division collaborated with Gateway's BIZ Squad to offer this program in Morocco through a HED grant funded by USAID. A BIZ Squad student who was involved in the international project with Ecole Superieure de Technologie  (EST) during the fall of 2012 semester at Gateway shares her perspective and experience with the project. 
---
"Our partnership with Ecole Superieure de Technologie Oujda has changed the way we think, design and deliver training for the automotive industry. At Gateway Technical College partnerships serve as cornerstones to growth and our HED partnership has initiated a culture shift within our faculty and staff for international collaboration."
– Bryan D. Albrecht, Ed.D., President and CEO, Gateway Technical College