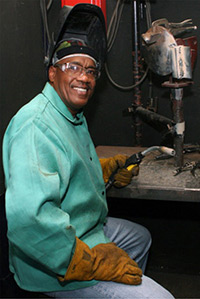 Charlie Johnson of Racine finds joy in learning with others of all ages. "I really like the design of the boot camp…from meeting new people…to learning new skills…to mentoring the younger students…and having very helpful instructors…it's a good mix," said Johnson. Johnson has experience in welding and enrolled in the boot camp to get certified. He has taken many courses over the years, so returning to the classroom was not difficult. What he found challenging was the amount of studying required outside the classroom. "We easily have 2-3 hours of studying outside the classroom for every hour we have inside the classroom," stated Johnson, "but there is excellent tutoring and extra lab time available so it all gets done."
Along with technical skills, Johnson and his fellow welders-in-training are learning about workplace safety practices through the Manufacturing Skill Standards Council (MSSC) safety module. MSSC is an industry-led training, assessment and certification system focused on the core skills and knowledge needed by the nation's production workers. MSSC certification is awarded by passing the safety assessment. Johnson described one of the ways that technical skills are measured, "The instructor has a worksheet for each type of welding we are learning (job assignment sheet) and we have to demonstrate each skill technique before we can move on to the next." The students also get to view practical applications of welding, as they did on a recent company tour. Johnson explained, "We took a tour of a race car body shop in Twin Lakes. We saw how welding is used to fabricate race car parts."
Johnson sums up the boot camp as an excellent opportunity for getting a welding job. After he attains certification in welding he plans to continue on with his education.
---
Boot Camp 4 Students Create Artwork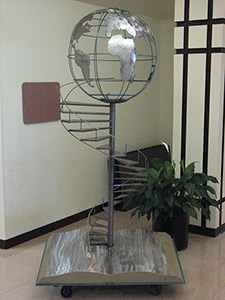 For their capstone project, Boot Camp 4 students created a sculpture titled "Higher Expectations". Students Bruce Brown, Thomas Degroot, Daryl Hawkins, Nicholas Johnson, Joseph Kahren, Evan Olsen, Matthew Stommel, Mitchell Sytkowski, Jay Thoennes, Kyle Worzala and Andrew Zold fabricated the piece. The design represents the students' collaborative vision of the theme higher expectations. The art work was a joint project of Gateway Technical College, the Racine County Workforce Development Center, the University of Wisconsin- Parkside and the Racine Unified School District. "Higher Expectations" is on display at the Racine County Workforce Development Center.