Machine repair technicians operate, repair and maintain machinery and equipment in an industrial environment. The Machine Repair Boot Camp is a comprehensive and quick way to gain the skills needed for this in-demand job.
What is Machine Repair Boot Camp?
The Boot Camp is a full-time, fast-paced, hands-on program to learn the essentials of industrial mechanical maintenance using classroom and lab experiences. The program is held on the Racine campus. The curriculum includes 792 hours of training.
For whom is the Boot Camp?
The Boot Camp is designed for individuals desiring full-time employment as a Machine Repair technician. The program is ideal for dislocated or underemployed workers.
How long is the Boot Camp program?
This 19-week program. The program requires attending class full time; 8-hours a day, 5 days a week. Attendance policy is strictly enforced.
What prior education is required to attend the Boot Camp?
No prior experience in the industry is required. Basic reading and math skills are required. Computer skills are helpful but not required. Students must complete a basic skills assessment prior to enrollment in Boot Camp.
Is college credit granted for taking the CNC courses?
The Boot Camp is a certificate program. Satisfactory completion of Boot Camp courses earn college credit toward a diploma or degree.
How will skills be measured?
Participants will take the MSSC Safety assessment. This is an industry-led assessment. Successful completion of the assessment will award MSSC Certification. For more about MSSC.
What is the employment outlook?
Skilled manufacturing jobs are in great demand in the local area. This program will prepare the student for an entry level position in industrial maintenance or entry into skilled trades. Many area employers were involved in the development of this program and are working with the Racine County Workforce Development Center, the Kenosha Job Center and the Walworth County Job Center to employ students that have successfully passed the Boot Camp.
How can I get more information?
The next Industrial Machine Repair Boot Camp is scheduled for Spring 2013 at iMET.
For more information employers please call 262-564-3608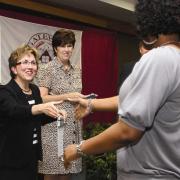 Wisconsin Department of Workforce Development Secretary Roberta Gassman was the keynote speaker at the first Machine Repair Boot Camp completion ceremony on July 31, 2009.