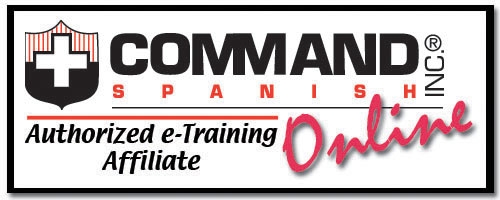 Command Spanish® is one of the country's leading providers of occupational Spanish language and cross-cultural training programs. Designed for the non-Spanish speaker, Command Spanish® provides easy, quick and relevant Spanish language skills tailored to specific professions.
Command Spanish e-Training
Learn Command Spanish® at your own pace with e-Training. e-Training provides web-based Command Spanish® courses that you can take whenever and wherever you want.  The online courses are designed to be easy, user-friendly and effective for long-term retention of practical Spanish language.  Command Spanish® courses are available online for:
Community Spanish
Construction Supervisors
Dental Hygienists
Dentists
Emergency Medical Services
Financial Institutions
Hospital Nurses
Law Enforcement Officers
Library Personnel
Medical Office Nursing
Pharmacy Personnel
Physicians
Real Estate Sales
Respiratory Therapists
Retail
Teachers
Workplace Spanish
Why e-Training?
Learn Spanish to promote better communication, increase safety, enhance workers' job performance, decrease or remove communication barriers, receive cost-effective instruction without having to leave your home or office, and provide better service to persons in the Hispanic community. 
All courses are:
Self-paced (start and stop any lesson at any time)
Non-instructor led
Asynchronous (start the course on any day, and any time)
Based on Adult Education principles.
Program hours: varies, minimum of 20
Cost: $69
To Register for e-Training:
e-Training registration and payment is done online through Command Spanish®.  To register, get more information on a specific course or learn more about Command Spanish® go to:  Command Spanish e-Training