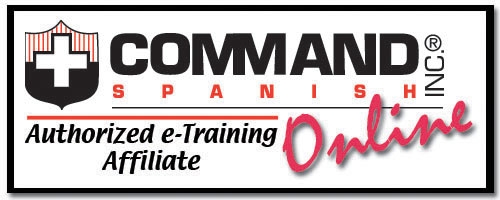 Command Spanish® is one of the country's leading providers of occupational Spanish language and cross-cultural training programs. Designed for the non-Spanish speaker, Command Spanish® provides easy, quick and relevant Spanish language skills tailored to specific professions. Learn Spanish to promote better communication, increase safety, enhance workers' job performance, decrease or remove communication barriers, and provide better service to persons in the Hispanic community.
Command Spanish Blended Learning
Command Spanish focuses on practical, everyday phrases and vocabulary needed to have basic conversation with someone whose primary language is Spanish. Through examples, repetition and practice the learner will gain skills to hold conversations in particular work environments including:
Community Spanish
Construction Supervisors
Dental Hygienists
Dentists
Emergency Medical Services
Financial Institutions
Hospital Nurses
Law Enforcement Officers
Library Personnel
Medical Office Nursing
Pharmacy Personnel
Physicians
Real Estate Sales
Respiratory Therapists
Retail
Teachers
Workplace Spanish
Blended Learning
Blended learning allows the learner to combine the convenience of easy, user-friendly online training modules done at their own pace with the reinforcement, feedback and practice of face-to-face sessions with a proficient instructor and other learners.
For more information contact:
Lauri Howard
Director of Workforce Training
howardl@gtc.edu
262-564-2990