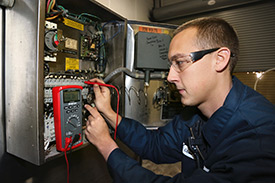 Solid pay. Working in an industry that's strong – and growing. After searching for years, a career that's a perfect fit. Work that challenges and presents different and interesting options every day.
That's the career Chris Nauta found, and more, through Gateway Technical College's Industrial Mechanical Technician degree program.
"My degree has definitely changed my life," says Chris. "Every day, I use something that I learned at Gateway.
"The pay is solid – earning my degree meant I received a healthy raise. I like my job because on most days, I am doing something a little different. It's never boring."
Chris works as a maintenance technician for Little Lady Foods, a company which develops and manufactures products – such as pizzas and gourmet sandwiches – for private, food service and contract manufacturing labels. He began working at the company before he graduated.
"We had a lot of real-world experiences at Gateway. They did an awesome job of getting me ready for my job."
Chris began his career focused on biology at UW-Whitewater before enlisting in the Air Force, where he worked – and continues to work – as an avionics specialist on planes as an E4 Senior Airman. That experience made him realize he wanted a career that was technical and hands-on. He enrolled in engineering courses at University of Wisconsin-Milwaukee, but quickly realized engineering wasn't the career he was looking for, either.
He researched the possibilities. He was seeking a career with hands-on work in a field with solid pay and future, important components in today's soft economy. He considered taking courses in Gateway's Air Conditioning, Heating and Refrigeration Technology program but they still didn't fully captivate his interest.
He took a career and skills interests test through a Gateway counselor, who recommended the Industrial Mechanical Technician program. Chris researched it, took some classes, and quickly realized it was exactly what he sought.
"I did my research before I went back to college, looking at some Top 10 career lists. This career field is in-demand and growing fast. There is a need for workers in this field. I didn't want to get into a career where I couldn't get a job right after college.
"Then when I started taking classes, I knew this was the career for me. I enjoyed them greatly and it felt right."
In addition, the wages and promise for further development were positive aspects of his new career.
"The pay is strong – I really didn't realize how strong until I entered the workforce," said Chris. "I know from my research now that I make more than some do with a four-year degree."
Instructors brought real-world experiences to the classroom which helped students learn the skills needed in today's industry, while their connections with professionals in the field helped students to obtain internships and be led to those companies hiring workers.
"I got something out of every class I was in, and use what I learned every day on the job," he says.
Flexible scheduling allowed Chris to take classes while still working a full-time job at the same time.
"It helped me out a lot, because I could take classes at night as well as on different campuses for different courses," he said. "I could take them where they were most convenient for me."