The Gateway Student Nurse Association (SNA) is a local branch of the National Student Nurse Association.  The purpose of the SNA is to mentor the professional development of future registered nurses and facilitates their entrance into the profession by providing educational resources, leadership opportunities, and career guidance. There are many activities including networking, service activities, seminars and attendance at state and national SNA conferences.
Students accepted into the Associate Degree Nursing program are welcome to join.
Meeting Dates/Times:
Fall semester general meetings September 19th at 4:00PM, October 24th at 4:00PM, November 21st at 4:00PM in room S125. December TBA due to finals.
Events Calendar:
Nursing Symposium "Global Health Reach Out" October 5th 2012 Madrigano Auditorium 9:00-12:00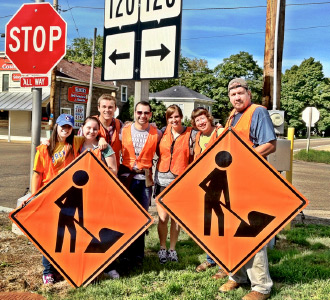 Student Nurses' Association Roadside Clean Up in Elkhorn
Left to Right-Colette, Debbie, Adam, Josh, Alyssa, Peggy, James