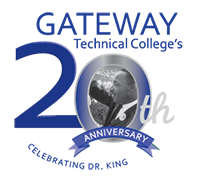 January 20, 2014 marks the 20th year that Gateway Technical College has celebrated the ideals and contributions of Dr. Martin Luther King Jr. through a noon program designed to inspire each of us to do our part to strengthen our communities.  This year's theme is Education:  From Access to Success.
To further commemorate the 20th year, additional events have been added to its celebration.
Monday November 25, 2013. A career exploration event designed to bring 75 middle school students of color to Gateway for hands-on activities and access to instructors and professionals—role models in their fields of interest. 
Saturday January 18, 2014. A Gospel Concert featuring the Chicago Mass Choir and numerous local inspirational performance groups will be held at Carthage College Chapel. 
On display Saturday January 18, 2014. Carthage College, Gateway, and UW-Parkside are co-sponsoring a Dr. Martin Luther King, Jr. art and essay contest for secondary and college students.  Entries will be featured in a special exhibit in the Carthage Chapel lobby.  (Application form-visual art  Application form-written)
Noon, January 20, 2014. Dr. Martin Luther King, Jr. Celebration.  , Madrigrano Auditorium, Gateway Technical College Kenosha Campus. Featuring Gregg Riley, actor, who will become Dr. Martin Luther King, Jr. by presenting portions of Dr. King's speeches and discussing the importance of education in realizing "the Dream." 
2:00 pm,  January 20, 2014 An Education Summit.  Representatives from each educational organization in Kenosha, Racine, and Walworth counties are invited to discuss educational programming for minority children, answering the question, "Are we doing enough?" 

Art Howell
Racine Police Chief
The 2013 MLK Celebration, Reviving the Dream through Education,  featured inspirational words from Racine Police Chief Art Howell and Shanta Harris, as well as other featured guests.  For the online web stream of the event in its entirety click here.
News Releases
Archived Dr. Martin Luther King, Jr. Celebration Programs (video):
(Please note some of these are large files.)
2010 - Gateway Technical College each year recognizes and honors the work done by Dr. Martin Luther King Jr. with a public event celebrating the national holiday set aside in his name. In 2010, national civil rights activist and motivational speaker Jeremy D. Ponds provided the keynote address at Gateway's Dr. Martin Luther King Jr. Celebration. Gateway also recognizes local residents with the Humanitarian Award for their work to continue King's work and ideals. This year's Humanitarians are Bishop Elliott K. Cohen and James Drescher.